Torn Hawk
Let's Cry And Do Pushups At The Same Time
November 11, 2015
Mexican Summer
MEX201
Torn Hawk is the audio project of producer and video artist Luke Wyatt. Over the past couple of years, Wyatt has unfurled a serial tapestry of content arguing for a reconciliation of aesthetic irony with compositional sincerity and emotional vulnerability. Let's Cry And Do Pushups At The Same Time is Wyatt's most recent full-length statement as Torn Hawk, and marks the onset of a more emotionally manipulative and sonically confident direction.
It's difficult to neatly categorize Wyatt's genre-refracting productions, which formerly have found a home on L.I.E.S., Not Not Fun, Rush Hour's "No Label", 1080p, and several other labels, including his own imprint Valcrond Video. The nuts & bolts of Let's Cry's eight tracks are built from live guitar, drum machines, junky synths, and layers of acid-washed samples. Wyatt smears the disparate elements of each track into a cohesive whole that transcends the (banality) (thrift-store dustiness) of each: the result is a series of heart-tuggingly confessional watercolors, framed with cinderblocks and distressed leather.
In the foreground of each track, Wyatt's guitar moves between the shag carpet meditations of Manuel Göttsching, the digital delay jangle-grid of The Chameleons, the sunstroke saturation of Medicine, and the modal wankery of Tom Verlaine. Throw in the unabashed melodrama of something a sax might do on a Don Henley hit, and you get a better idea of Torn Hawk's sensibility.
Movies and television also leave an undeniable impression on this album, which should come as no surprise to anyone who has followed Wyatt's parallel video efforts, which he calls "Video Mulch". The influence of film scores comes through in the inspirational mood cues of tracks like "Afterprom", which presents a bouquet of guitar scrawls wrapped in a black garbage bag, and "Because of M.A.S.K.", which would sit perfectly over the end credits of a rom-com set within the subculture of identity theft.
Elsewhere, "She Happens" takes the precarious tenderness of a brand new love affair and holds it over the edge of an audio cliff by the scruff of its neck; "Acceptance Speech" evokes the feel-good podium glow of awards-show public masturbation; and "Under Wolf Rule" balances threat with inspirational thrust: it's the ideal soundtrack to decapitate to, and then thoughtfully consider the floral arrangements that are to be placed around the heads. Closing out the album, "There Was A Time" hovers in the strip mall of emotions between the storefronts of regret and expectation, expertly evoking the temporal hang-ups that feed or defeat our day-to-day happiness.
As its title suggests, Let's Cry grapples with the duality of internal conflict and persona construction. It's a theme that also ties in with Wyatt's aesthetic interest in "parodying toughness". In his visual presentation, Wyatt often presents a South Florida machismo in tandem with a vulnerable, self-help softness. It's this kind of playfully sincere doubling that Wyatt thrives on; he is committed to making music that pumps you up and tugs at your heart stuff – he is making music for you to work out and weep to.
1

I'm Flexible PLAY

2

She Happens

3

Afterprom

4

Return to the Pec Deck

5

Acceptance Speech

6

Because of M.A.S.K.

7

Under Wolf Rule

8

There Was a Time
Videos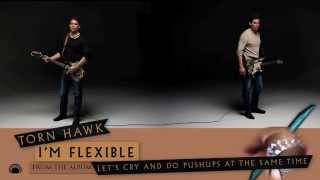 ---